Foreign Exchange 'Fashion designer Dennis Diem' June 2011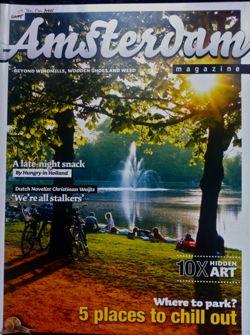 As she waltzed over Hollywood's red carpet on Oscar's night, who would have believed that super model Dorith Mous' elegant silk golden evening gown could have originated from Amsterdam's seedy Red-Light District? Dutch fashion designer, Dennis Diem (32) who works from his seventeenth-century canal-side house located smack-dab in the middle of hookers and hooligans, talks about his passion for fashion.
Where do you get your inspiration to design dresses?
DD: When designing for my collection, I usually start with a classical concept and work from there by looking for contrasts. For example with my latest collection 'Fools Gold' I used classical patterns of embroidery in gold and combined them with coarse materials such as jute. When I make a dress for a client, she is my source of inspiration. I try to design an outfit that matches her character and body. Dorith Mous who is now the face of SWATCH watches, came to me and asked me to design a dress for Oscar's night. The dress really fits her character and body. I worked for more than a month on Dorith's dress. Most of the time went into the hand-embroidered ornament that hangs over her shoulder.
The dress that Dorith Mous had on Oscar night resembles the classic style that Hollywood vamps Lana Turner, Veronica Lake or Rita Hayword wore in the 1940s and 1950s. Is your style based on that period?
DD: Not necessarily, but many of the cut and style techniques from that period I think are very interesting. Although the use of a corset is an important element in my design. The corset is not usually worn by women today but I do notice that there is more demand for corsets, and not just the classical ones. Women also want to have a corset incorporated in their dress. I've also changed the classical corset into something that can be worn as a separate garment of the upper body, usually as party dresses or wedding gowns. I've re-styled them in various ways by integrating them into the lining of the material for a strapless dress, or used them as a separate garment which accentuates the effects of the corset even more namely pulling in the waist, pushing the breasts up, and changing the woman's posture. When I get a woman into a corset either used in the lining of the dress or as a separate garment, not only does her figure change but her entire charisma does as well. For me that is the beauty of fashion design.
Are Dutch women more fashion-conscious than ten years ago?
DD: Yes, definitely. Dutch women are more fashionable but they tend to buy more 'throw-away' pieces that last only one season. I wish they would learn to appreciate tailor-made, designer clothing which is also more durable. My ideal of style is based on extreme decadence like high heels and decorated garments with ornate material.
Is that what we can expect in your 2011-2012 collection?
DD: Contrasting material between coarse-jute bags worn against a smooth and sleekly-cut silk dress and decorated with golden embroidery. Besides that, I've started designing shoes, and in October when my store opens, I will also feature my own design of gloves, silk stockings, and jewelry pieces for the hair.
No leather, panther-patterns or skimpy panty's? That doesn't sound like how any of your neighbors in the Red-Light District are dressed. Who is your role model in the world of fashion?
DD: Alexander McQueen! He knew how to create the perfect balance between historical designs and the modern fashion image. Although maybe my neighbors influenced me a little bit with their high heels.
By Benjamin Roberts