Foreign Exchange 'The Fuss about Fetish' May 2011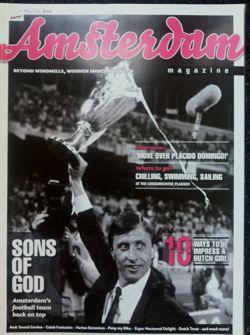 Tied up, gagged, whipped, and pissed on. Wasteland Party-goers Caragh Cuddihy and Spyros Carrington have seen it all. The Scottish-born costume designer, Cuddihy and Carrington, a Greek and head chef of BiHP Restaurant have never missed this fetish party since they made their home in Amsterdam. Next week April 16th there will be another Wasteland Party in Zaandam and Cuddihy and Carrington are busy getting their costumes ready. That was reason enough to find out what the fuss about fetish was.
Anybody turning up at the door at the Wasteland Party in anything less than 'un-appropriate' risks being sent away by one of the ten door bitches that keeps the dress-code of the party high. Cuddihy provides costumes for them, and has plenty of experience in kinky rubber and leather outfits. She has been dressing dominatrices throughout the Netherlands for the last fifteen years. On the other end of the spectrum there is Spyros Carrington (his last name is his glam name, paying homage to Alexis Carrington-Colby, star of 1980s series 'Dynasty') who gets a kick out of creating his own glamorous outfit.
First things first, what do you call fetish?
Cuddihy: Well, everything can be a fetish if it turns you on. Fetish is infinitive.
Carrington: I think everything beyond the realm of normal is fetish. People riding around in wheelchairs in sexy outfits, that's a fetish I never would have thought of.
So what can you expect to see at a fetish party like Wasteland if fetish is everything?
Carrington: Everything you don't see at a regular party. That is the beauty of Wasteland. People are completely free to be who they are or want to be without any restraints.
Cuddihy: In the course of the years, the parameters of 'fetish' has become more elastic. Now there is a wide variety of fetishes at parties like Wasteland from the rubber and leather crowd to the obscure and feathers bunch, water sports, medical group 'doctor and nurse', to the patient walking around with a drip-bag and likes to have needles inserted and a even a catheter pushed upside his penis. Then there is also the 'electric stuff' – the partiers who like to have electrical cords attached to an orifice of choice. More recently, I noticed the new 'spit fetish', people who like who come up to you at a party with their hand open and want you to spit in their hand or on them. At another party I saw a couple that I thought were making out, but when I looked more closely, the one had her tongue up the nostril of the other, as if she was penetrating her.
What kind of people go to Wasteland?
Carrington: Gays and straight people. I think the coolest thing about Wasteland is that you finally see straight people having a good time too
Cuddihy: The first time I started going to fetish parties like Wasteland it was in the early nineties. It was usually a mix of straight people and gays, and the straight people were often women who liked to dress up in a dominatrix outfit and bring their 'bad husband or boyfriend' where he could be 'punished'. For the gays it wasn't so unusual because they're used to more erotically tinted parties where 'everything goes' But now, it's a great venue for straight people to dress up and let their fantasy run wild and have a good time.
So Wasteland is a party for eccentrics or eccentric-minded people?
Carrington: No, not at all. It's for everybody and anybody who wants to explore their other side.
Cuddihy: I'd agree. A lot of people who have a 9 to5 office job can live out their alternative side a Wasteland. Those are the people who usually like to have elaborate costumes and lots of make-up that conceal their faces. Especially, those who are high-powered businessmen like CEO's and in the S&M scene who are lead around by their dominatrices. At Wasteland, you can see those sparsely-clad businessmen in their leather gear being swatted and humiliated, for all the other party-goers to watch.
What kind of outfits does Scotch & Pepper design for Wasteland party-goers?
Cuddihy: We design men's and women's outfits in rubber and latex. People are buying more whole suits and dresses made from rubber and latex. I was watching Audrey Hepburn in the 1960's classic 'My Fair Lady' wearing a Victorian style dress and thought I want to make that in rubber. And I did. Big bows and everything, the only thing is that is that the decollecté is more revealing, and it fits around the waste like a glove. Really sexy!
What do you enjoy about Wasteland?
Carrington: The wonderful thing about the party is that everybody is doing their own thing and there is no shame or judgment. Daily life is constantly filled with judgment, but at Wasteland, judgment is checked in at the door, and people can be who they want to be, just for one evening.
Cuddihy: The outrageousness. Everything that you can imagine but really couldn't imagine materializes there.
Is fetish becoming more popular?
Cuddihy: Definitely, when I went to the first Wasteland Party in 1994 it was held in a small venue, the Richter, in the Reguliersdwarsstraat. The Wasteland parties now are held twice a year in a large factory in Zaandam and usually has around 2,500-3,000 people attending. It's massive.
Carrington: Fetish parties like Wasteland are world-wide phenomena. Wasteland is just one, and its permanent. Big fetish parties move around the globe like a circus.
Why is that?
Cuddihy: Television and music video's have exposed people to more fetishes. For example, you could see that at the parties when people came with tattoos and piercings. That's mainstream now.
What will you be wearing to Wasteland next week?
Cuddihy: I can't tell you that, but I will say that it will be a latex one. Latex is fantastic. The thinnest latex is like wearing a second skin. Every line and crevice of the body is divulged. Its concealing and revealing at the same time. At that's why it's a fetish!
Carrington: Feathers, feathers, and feathers. Perhaps something more. Alexis will be proud.
by Benjamin Roberts